What is it like to be a woman behind the bar? Mid-day Online spoke to three Mumbaikars who work as bartenders or bar managers. They talk about breaking into the profession, making their own cocktails and dealing with surprised onlookers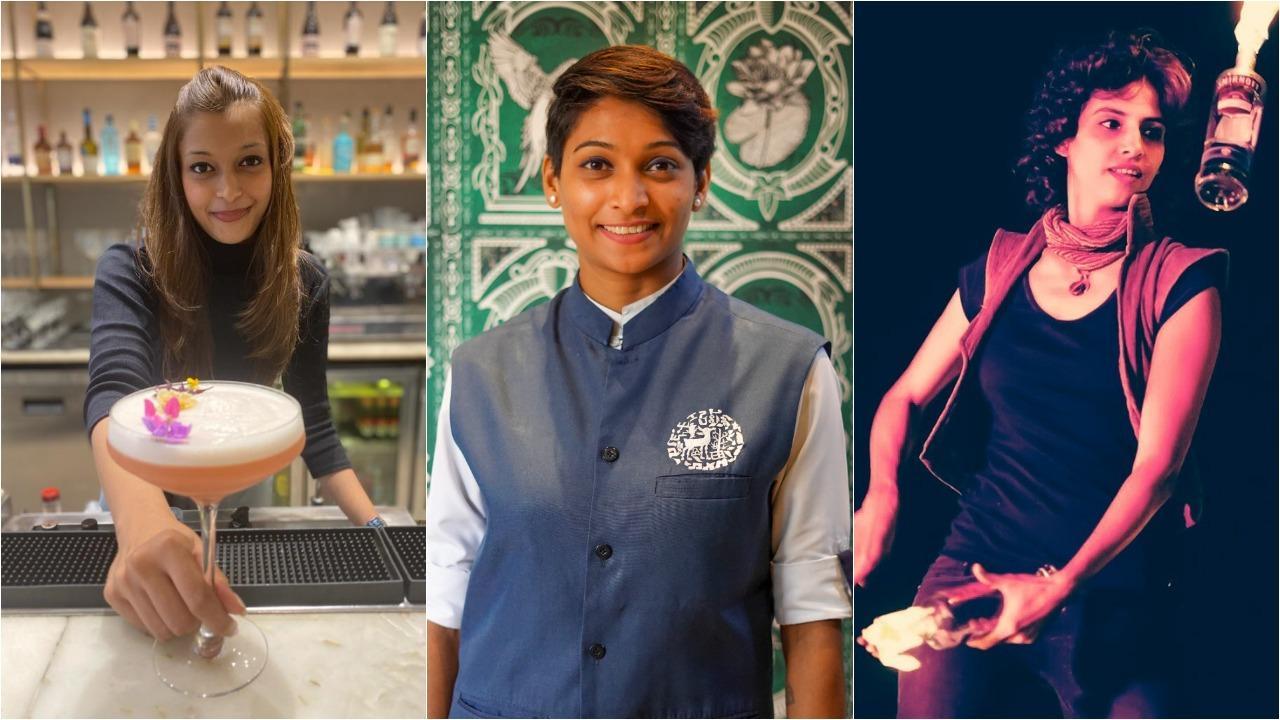 Pearl Fernandes, Casilda Misquitta and Ami Shroff got behind the bar to become a bar manager, bartender and flair bartender respectively. Photo Courtesy: Pearl Fernandes/Taftoon Bar & Kitchen/Ami Shroff
The hospitality industry is demanding and it was unfortunately also among the worst hit by the Covid-19 pandemic. Workers are vocal about the long working hours and inadequate pay but that hasn't stopped them from passionately  pursuing what they want to do. Within this multi-faceted industry, bartending is a hugely popular space that is particularly dominated by men, but over the years several women have been getting their foot in the door and making a mark in it.  
On the occasion of International Women's Day, Mid-day Online spoke to three Mumbai women who spend their time tending or managing the bar. These women tell us why they chose to enter a male-dominated space within the hospitality industry. As delicious drinks become increasingly vital to the dining experience, they say they are seeing a visible change –more women want to stand behind the bar not just to mix cocktails but also to be involved in running them.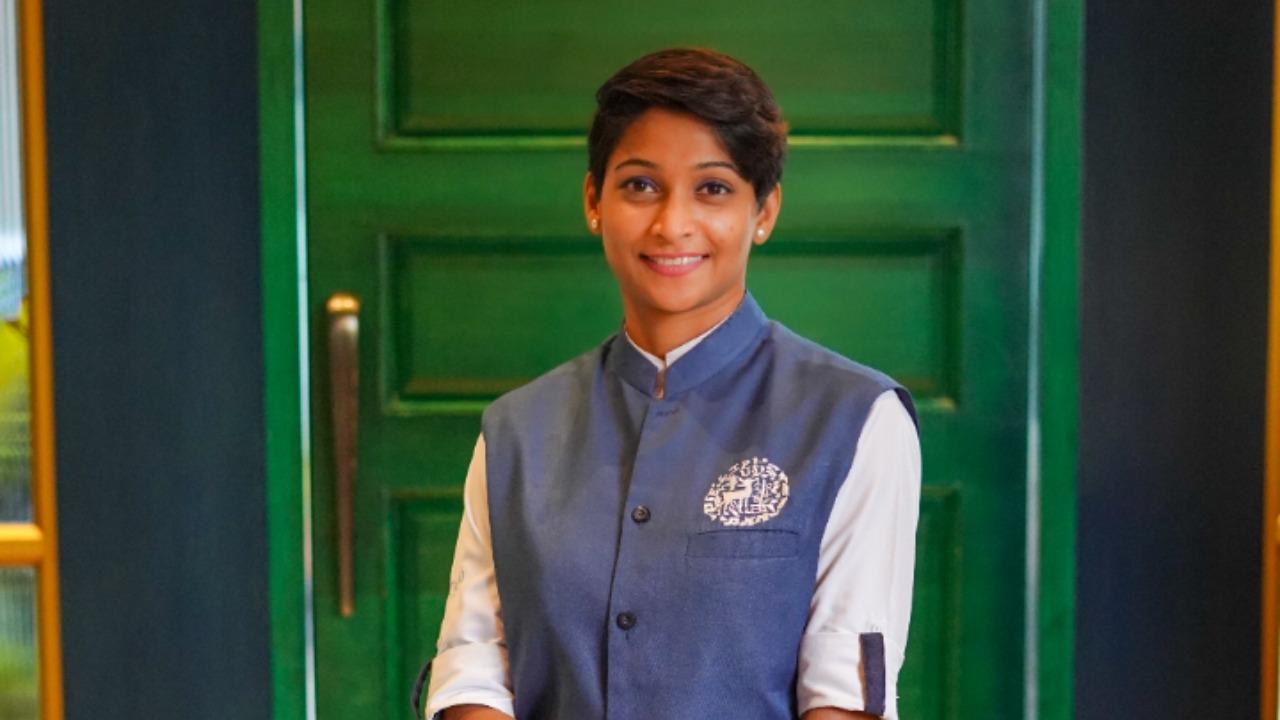 Casilda Misquitta became a bartender because of her love for alcohol and being a social person, she also gets the chance to meet a lot of new people. Photo: Taftoon Bar & Kitchen

Casilda Misquitta, head bartender, Taftoon Bar & Kitchen, Bandra Kurla Complex, Bandra (East)
City-based bartender Casilda Misquitta got behind the bar because of her love for alcohol and she has been acing it for the last three years. But it wasn't her first career choice. "I started my career as a banker, then moved to events and advertising but I have always been a party person and that's where my love for alcohol started." The part that fascinates her the most is mixing different flavours and spirits together to create cocktails. As a social person, meeting people at the bar excites her too.  
ADVERTISEMENT
When I was on the other side of the bar, people used to tell me this is not a career I should be getting myself into but now that I am here, it feels just like any other career.
It is difficult to choose one favourite type of alcohol but Misquitta who has experimented quite a bit says it is definitely whiskey for her. She explains, "I like whiskey because it has a wide profile and there are different types of whiskeys from around the world like Scotland, Ireland, UK, India, Japan and Canada to work with. It is very versatile because you can have it neat, as a cocktail and add a wide range of flavours while experimenting with it." Her love for the alcohol made her create the Saffron Sunset recently for a competition. It is her take on the classic Old Fashioned, which she made with bourbon whiskey and an in-house cherry liqueur. The desire to innovate keeps her busy, whether she is serving drinks or coming up with concoctions. It is also the reason why Misquitta, who works in one of the many business districts in the city, says no two days are the same for her. "For me, an ideal day is a well-stacked bar, cracking a recipe that I have been working on for a while. Getting a well-balanced cocktail, just like the customer wants and watching them smile as they take the first sip of the cocktail makes me happy," she adds. 
Interestingly, Misquitta doesn't believe that bartending is a male-dominated profession anymore. She explains, "We have a lot of women excelling at their job, and I want to be the one to change the perception of people. None of that mattered for me because I have always tried to push forward." Things were different when she was switching careers, however, and she got different kinds of reactions at the bar, especially from people outside the industry. "When I was on the other side of the bar, people used to tell me this is not a career I should be getting myself into but now that I am here, it feels just like any other career," she adds. Ever since she has entered the field, she has had varied experiences including drunk confrontations and cheesy pick-up lines, and has made new friends. In fact, her male peers may just be jealous because Misquitta says they tell her that people are more polite to her because she is a female bartender. 
Ask Misquitta about the one tip she would give to aspiring bartenders and she says it would be to never stop learning and always have a mentor who you look up to. "Give it your 100 percent and follow somebody but at the same time be yourself," she shares.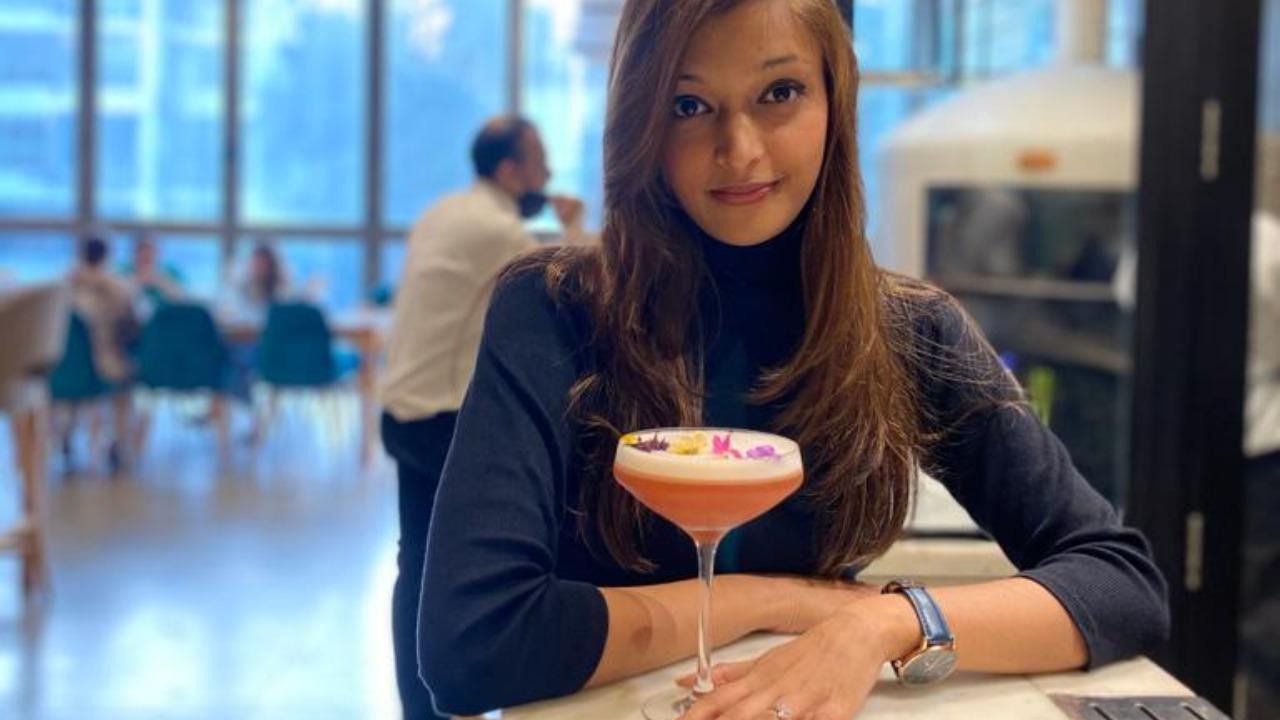 Pearl Fernandes's ideal day apart from managing her team and guests is spent researching latest trends in the food and beverage industry and keeping in sync with them. Photo: Pearl Fernandes

Pearl Fernandes, bar manager, Sorrentina, Santacruz (West) 
Pearl Fernandes, another city-based woman behind the bar, joined the hospitality industry seven years ago and has worked with several five-star properties. Joining the industry came naturally to her because growing up, Fernandes saw her mother working with different ingredients and playing around with flavours all the time in the kitchen. The 27-year-old explains, "It definitely raised the curiosity in me to try different flavours as a chef. However, when I joined here as an assistant restaurant manager, since we are an ingredient-focused restaurant, I was curious to see how I can translate that at the bar by trying different ingredients and cocktails as well. It has now led me to curate menus." With ingredients found locally and sourced from Italy, Bandra-based Fernandes found the perfect opportunity to take the conversation beyond the food, which is usually what most people come for, and bring their attention towards drinks. "I want to create a new wholesome experience for guests when they come in because just as food is important, having a great drink is equally important in a dining experience for the guest," she adds. 
While Misquitta loves to work with whiskey, Fernandes prefers gin because it is an easy-drinking spirit. She explains, "It pairs well with many different flavours when you play around with it. Or, there is always the classic gin and tonic." Last summer, Fernandes, who has been an assistant restaurant manager and a bartender briefly, squeezed the juice from a sweet lime, used some of its zest and poured some gin and tonic over that to make a refreshing cocktail, which was later on added to the restaurant menu too. When she isn't managing her team and the guests, she is researching the latest trends in the food and beverage industry and keeping in sync with them. 
A lot of female guests feel very proud when they see me working behind the bar and managing the space as well.
Like Misquitta, being a woman behind the bar, Fernandes has seen things change ever since she joined the industry seven years ago. There were fewer females then, especially in the food and beverage space because "there was a lot of apprehension about doing late nights and working long hours". Based on her experience, she says working in Mumbai is easier than working in Delhi. Last but not the least, she believes having an encouraging team is an important blessing. "When I meet people, there is appreciation but they also have a sense of surprise saying, 'oh, you're a woman but you work behind the bar'. A lot of female guests feel very proud when they see me working behind the bar and managing the space as well," says a happy Fernandes. 
Being behind the bar but not being the bartender is different and the hospitality professional says it is because the focus earlier was on the chef curating the meal but that is now changing. "It is a boost for female bartenders to join the industry and be a part of It. Creating relationships with your customers and people in the industry is another key aspect as well," she concludes.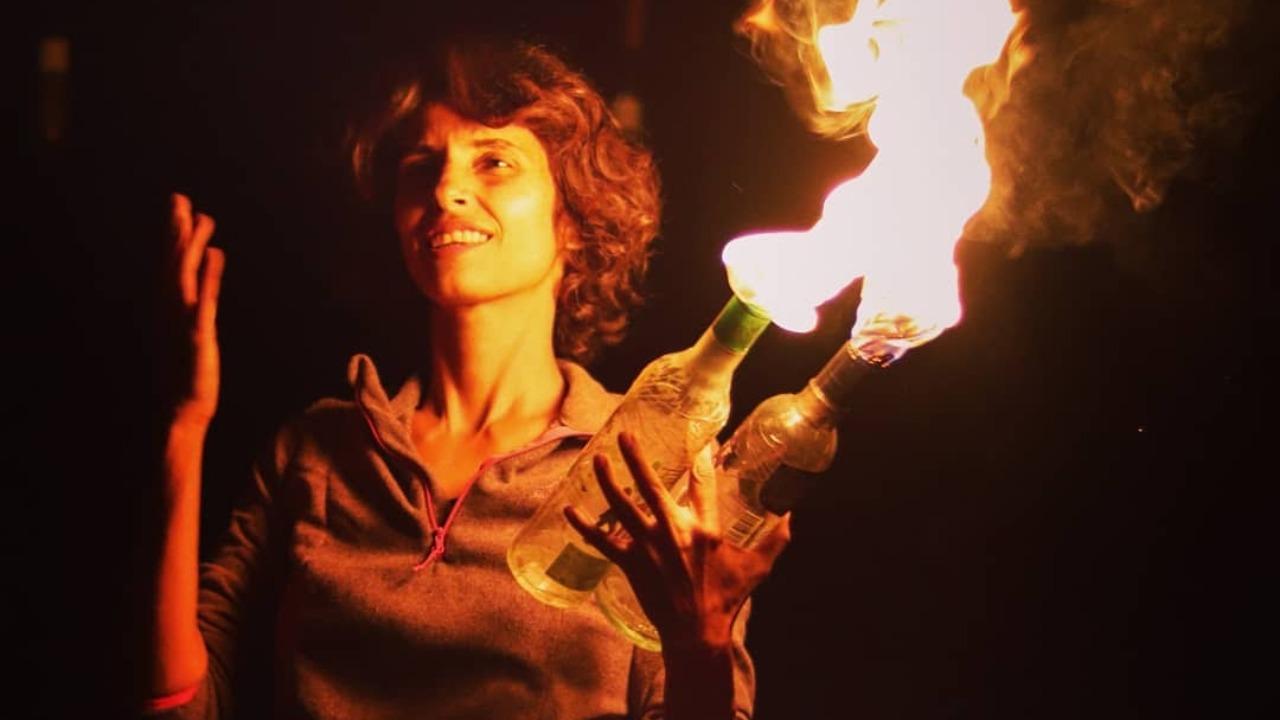 Ami Shroff has been fascinated with flair bartending ever since she saw the Tom Cruise film Cocktail (1988), and since it came naturally to her after, the art became her profession. Photo: Ami Shroff

Ami Shroff, freelance flair bartender
While Misquitta and Fernandes entered the industry because of their love for alcohol and hospitality, it was the art of flair and mixology that made Ami Shroff, a city-based independent flair bartender take up the profession. "The first time I saw flair was in a movie called 'Cocktail' (1988) where Tom Cruise flipped some bottles. I was in college and 18 when I met a flair bartender. I had already learned a few moves from the movie which I showed him, so my best friend and I learnt it on the job." Since the whole process was organic and easy for Shroff, it became her profession along the way. While it is no surprise that flair is what fascinated her in the profession, the travel that comes along with the events she does, meeting interesting people and learning about new flavours is what keeps her always on the ball every day. In fact, Shroff was in Jaipur last weekend and travels regularly for assignments, and that clearly justifies her love for the art and trade of the profession. 
For someone who loves the art, the city-based bartender rightfully doesn't have a favourite alcohol but if she had to choose it would be working with gin or beer, her personal favourites. It is simply because for Shroff, it is more about the ingredients that grab her attention. She explains, "If it tastes good to me, I know why it could taste good for somebody else and I could sell something I believe in. It depends on what is locally available, seasonal, what's not packaged or processed and preferably natural." Unlike Misquitta and Fernandes, Shroff is a freelancer and so she has a different kind of day. It depends on how busy she is with the kind of events she is doing and at the same time coordinating for future events. Such a schedule also makes it very hectic sometimes because of the flights at odd hours, back-to-back events, the city-based mixologist and bartender says can be a lot. When not doing events and travelling, she is busy honing her skills and learning more by watching videos online to be prepared for her next display. 
If people hire women behind bars, they expect them to be dressed in a feminine way or wear heels at work, even if it is not comfortable standing for 9-10 hours on the job.
Having been in the industry for a while, Shroff highlights at large that when top management is usually men, only males would get hired and they wouldn't have a perspective of the issues faced by women and how to make it a more comfortable space for women overall. She explains, "If people hire women behind bars, they expect them to be dressed in a feminine way or wear heels at work, even if it is not comfortable standing for 9-10 hours on the job, or be groomed in a certain way, which is not expected of male counterparts." The normalising of casual sexist jokes is another bias that she has seen in the industry. Apart from that, she has been to get interesting reactions from people who see her as somebody who is in a field that is less mainstream, especially because it is male-dominated. "It is usually a good surprise and they say, 'oh wow this is interesting, tell me more' and they have questions about it," she adds, while saying that there have been others who have been awkward because of the stigma associated with alcohol and the bar in India.
Even though the industry has taken a hit, Shroff like Misquitta and Fernandes sees the bright side and encourages every woman who wants to enter the hospitality industry to go for it. She says, "It is a booming career with a growing industry. There are a lot of opportunities not just as a bartender but also wines and spirits or flair bartending and performances." This, she says, is apart from the management opportunities. "From the gender perspective, it is better to put ourselves in spaces where we feel like it's not so safe or how safe will it be or think it will be male dominated and not so comfortable. So, when we put ourselves in these spaces, other spaces which are also male-dominated or public spaces feel safer." Clearly none of this has deterred her because the confidence and experience are something that has stayed with Shroff in all the years she has spent behind the bar and helped her become better giving hope to many out there wanting to pursue their careers in the industry.